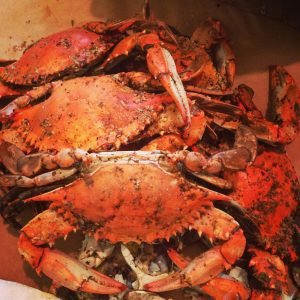 CAMBRIDGE — Cambridge Main Street announced the winners of the "People's Choice" balloting at Saturday's Taste of Cambridge, which drew the largest crowd in its nine-year history with a total sell-out of tickets.
The event showcases Dorchester County restaurants in a competition to see who makes the
best crab dishes in six different categories: Cream of Crab Soup, Maryland Vegetable Crab Soup, Crab Dip, Crab Cake, Specialty Soup with Crab, and Crab Specialty dish.
The general ticket-buying public casts ballots to decide the "People's Choice" after tasting all 14 entries.
This year, the coveted "Best In Show" prize, awarded to the single best dish across all the categories, goes to Ocean Odyssey for their crab specialty, Blue Crab Claw Fritter.
This year's "People's Choice" winners are:
Cream of Crab Soup
First Place: Jimmie & Sook's Raw Bar & Grill
Second Place:Cambridge Yacht Club
Maryland Vegatable Crab Soup:
First Place: Leaky Pete's Oyster & Wine Bar
Second Place: Suicide Bridge Restaurant
Crab Dip:
First Place: Leaky Pete's
Second Place: High Spot
Crab Cake:
First Place: Jimmie & Sook's
Second Place: Portside
Specialty Soup with Crab:
First Place: Stoked(Crab Gazpacho)
Second Place: Blue Point Provision Company at the Hyatt (She Crab Soup)
Crab Specialty:
First Place: Ocean Odyssey (Blue Crab Claw Fritter)
Second Place: Bistro Poplar (Crab Spring Roll)
See the article at MyEasternShoreMD.com